Day 7: It's Time to Wine!
By Matthew Pedone
---
October 23rd, 2014
First off, California could save a ton of money if they sold off all of those yellow road signs that had an image of the snaking road and the warning that the road would be like this for the next X miles and put up signs that alerted drivers to when the road is going to be straight for a couple of miles. They'd need far fewer of them.
We're heading to wine country today. Well, we're in wine country, but we're heading to wineries today.
First, breakfast, cooked by the assistant innkeeper, who is inn-sitting for the owners. Breakfast consists of coffee, tasty biscuits with homemade jam, shirred eggs, and mushroom-Swiss-bacon sausage. Tasty. The assistant innkeeper is talkative, and I soon know more about her life than I do about some of my friends. She is free and open with advice, and charts us a course for the day. It leads us towards Yountville in Napa, so we mostly follow it.
First up is Fritz Winery. A lot of their production and storage is underground, and I'd hoped to see it, but they only do tours on the weekend. The server suggests a couple of other places to the couple who was there before us, and they match up with suggestions we'd gotten, so that's cool. Good wines. Free with wine pass.
Next up is Cast. Well, it was supposed to be next up, but we drive right past the entrance. Next up, Ferrari-Carrano, which comes highly recommended. Well, the gardens come highly recommended. The wine, not so much. The winery looks like a classy Italian villa, and the gardens do not disappoint. Sonoma, and the Dry Creek region in particular, is supposed to be a little more blue-collar than Napa, but this place is apparently the exception.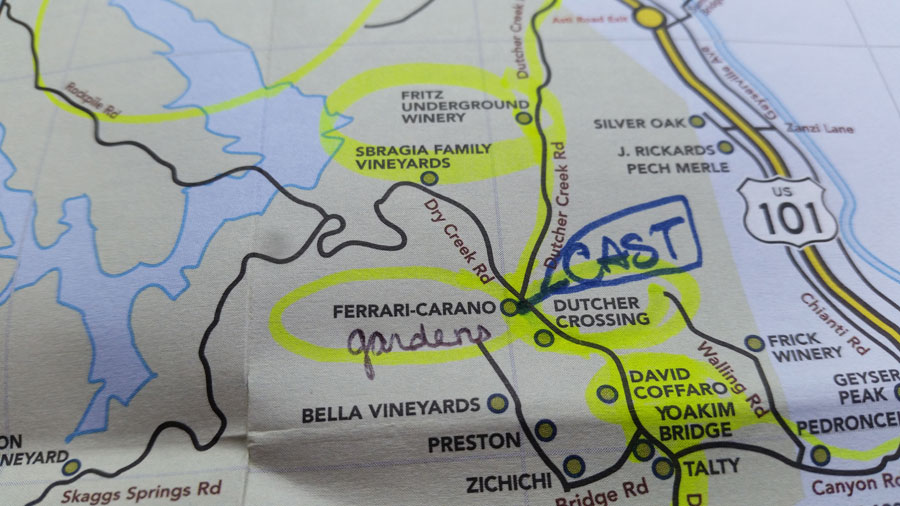 With a map like this, how could we have missed Cast?
Next up, we head back across the street to Cast. It's not part of the wine pass, but worth the $15. Four tastings of wine, served outside. Sitting in Adirondack chairs overlooking the vineyard, soaking in the sun, we sip the win and partake in the complimentary cheese, crackers, and olives. We'll be coming back tomorrow to buy some wine.
We continue on to David Caffaro winery, on the wine pass again. The tasting room is in the same building as their production, storage, and shipping, and they have some unique blends. They also have autographed pictures of famous Oakland Raiders. Including Jack Tatum (in a photo that glamorizes his horribleness). I don't think we'll be buying from them. I spend a good chunk of the tasting chatting with a vacationing chef who gives me a subtle eye-roll when I mention that we're looking forward to eating at one of Thomas Keller's restaurants. He stops before saying anything negative, but I can tell he's not a fan.
Truett-Hurst next. Nice looking place, but the tasting room is loud. We decide that we've already had a bunch of wine (Sarah is driving at this point, as I was feeling it after Caffaro), and so we stick to taking a stroll around their gardens. Not quite as picturesque as FC, but more vegetables and fruit, so more useful. Also, they have chickens, which are apparently my wife's favorite barnyard animal. I did not know that.
At this point, we've had a good amount of wine, and a relatively small breakfast, so we bypass a couple of wineries and seek out the Dry Creek General Store for a couple of sandwiches. I get a Speck sandwich (smoked prosciutto), Sarah gets a caprese panini. Don't let the quaint country store exterior fool you - this place was gourmet.
Back up the road to the Family Wineries, where we hit up Tratorre Wines/Dry Creek Olive Oil where we sample olive oils and wines. The wines are unique to the area, which is nice, as most of the wineries tend to have the same group of wines (Zinfandel and Cabernet Sauvignon). The olive oils are delicious, and all made from local olives. We get a free sample with the card from the assistant innkeeper, which also covers the tastings. We pick up a bottle of the Mediterranean-style oil.
Kokomo is on the wine pass and is right next door, so we pop in for one last tasting before heading to Napa Valley. More of the regulars. Off to Yountville!
More curvy roads! We're in the valley, though, so they're not scary. Also, the guys from Top Gear (formerly from Top Gear, now from The Grand Tour) are right - whether you call them caravans or camping trailers, they suck to be stuck behind on these roads. I manage to pass him, and we get moving again. Traffic bogs down as we get into Napa around 4:30, as the tastings finish up for the day, but we get to Ad Hoc with a half hour to spare.
Earlier in the trip, one of our themes was poor planning. I like to think that we've gotten better as the trip has gone on. We've had an idea of where we were going whenever we've set out, and for dinner, we've had backup plans at the ready. The theme has shifted to inability to judge distances on maps. Or, well, distances, period. Put more simply: it looked closer on the map. For example, Ghirardelli Square looks like it's right next to Fisherman's Wharf. The trail heads in Muir Woods didn't look that far apart, or to be that bad of a climb. And today, Bouchon and The French Laundry are just up the street from Ad Hoc.
Well, they might be, but with no sign of them after walking for ten minutes, we decide to head back to Ad Hoc.
One thing we learned this trip: if you don't have a reservation at a restaurant that only seats people with reservations, try going right when the restaurant opens. I don't know if this would work at Ad Hoc, but I can say that there's a related bit of advice: if you don't want to have to wait for your table, get an early reservation. With no one in the restaurant, there's no need to wait for anyone to finish before being seated. I'm pretty sure we're early, but they seat us right away.
Our waiter runs through the menu, which is Prix Fixe, so the only decisions we have are whether to add on the menu option (we do) and what to get to drink. We get a half bottle of a local wine whose winery we'd passed by today but hadn't tasted: Storybook.
Dinner starts with an endive salad, with grilled pear, almonds, arugula, shaved fennel, and a pear verjus vinaigrette. Delicious. I've never had endive, and I've never been a big pear fan, but the combination of everything together was perfect. I also have a love/hate relationship with arugula. I don't like it on its own, but it gives a great peppery/bitter note to other items. This was no exception. Bitter from it, acid from the vinaigrette, sweet from the pear, crunch and salt from the almond, freshness from the endive and fennel. A beautifully balanced dish.
Next was the PEI mussels, the add-on to the menu. In other settings, we might not have gotten them, but this is a Thomas Keller restaurant, and who knows when we'll eat his food again? They're served over carrot, celery, and Ad Hoc bacon lardons, in a Blue Apron ale sauce. They're really good. We each get one piece of grit in our first taste, but nothing after that. The lardons are these thick hunks of pork belly, house-cured, and cooked so that they have a crispy outer layer, but are still juicy and delicious. They add a nice salt note to the dish.
Main course is a grilled hangar steak with romesco, orange, roasted sunchokes, braised artichoke, and wilted beet greens. We've had issues with sunchoke, and I've had issues with cooked greens, but we dig in and think good thoughts. First, the steak is delicious and cooked perfectly. Sarah likes it with the sauce, I think it's actually better without. The artichokes I don't care for, but the beet greens go nicely with the steak, for a while, then their bitterness gets to me. The sunchokes though…
I tried cooking sunchokes once. They look like little potatoes, and, following online advice, I made a mash with them, in the same way you'd make mashed potatoes. Peel and cut, boil and mash, adding milk and butter. It was horrible. These, however, are the complete opposite. These sunchokes are a revelation. Roasted until crispy but still soft in the middle. When you bite into one, you get a crunch, and then a burst of melted sunchoke, that tastes potato-y, but more complex (in the time since this trip, I tried replicating this type of roasted sunchoke, and I'm happy to report it came out much better than my first attempt).
The cheese course is a local raw-milk cheddar, served with mustard, sweet crackers, and cornichons. OK, I don't like cornichons. Flat out, don't like them. I just don't like that flavor. It's kind of all vinegar and too sweet. Give me a sour, garlicky, dill pickle any day over this. The mustard is OK, but I'm not a big straight mustard fan. The cheese with the cracker, though is very nice.
Dessert is a Tres Leches cake with whipped chantilly, and passion fruit ice cream served on toasted coconut. Once again, a food I'm not a fan of - passion fruit. And, once again, a food that I devour, passion fruit ice cream. It is amazing. Smooth and creamy, and a rich taste of the fruit but tempered by the cream and cold. The cake itself is even better, and the cream is smooth and rich and foamy. A great end to the meal.
After dinner, we walk up Washington St, finally finding the other two restaurants. The French Laundry is a little over a half mile away - not bad, but further than we thought, and in a building so non-descript, you might miss it and the "Le Grande Tables en Du Monde" award out front. We walk around the front, taking a couple of pictures. Around the side, after passing some waiters in full suits, we see the coolest thing about the restaurant. The kitchen is offset from the building, and features large, unshaded windows, so a visitor (like us) could stand outside and just watch the cooks do their things (like we did), and imagine eating there someday (we probably won't).
Eventually, we head back to the car, and head home. We'd taken 128 all the way here from Cloverdale, and while it's all in the valleys, it was windy, and I'm not sure about driving it after a full day of drinking wine. The 101 more or less runs parallel to it, and is a freeway, meaning we can also drive a little faster, and maybe get back to our room a little earlier. I figure should be able to take one of these side streets over to it, and hop on.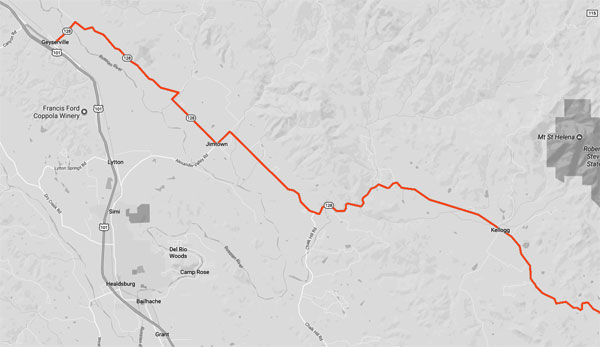 A portion of the road we would've taken back. Note the moderate curves. Also note, it's very flat.
What I didn't figure was that we'd have to drive a windier, steeper road up one side of a mountain and down the other. It feels a lot like the road down into Muir Woods, except this time we have to head up as well as down, deal with more traffic, and do it all at night. So, the next half hour is spent pushing our little rental up the side of a mountain, through hairpin and worse turns that also climb steeply, and then holding it back as we descend the other side through similar turns. In the dark, with other cars and who-knows-what wildlife ready to spring out into the road (we did see a bunny at one point). As the road stretched on and on, we wondered why we came this way.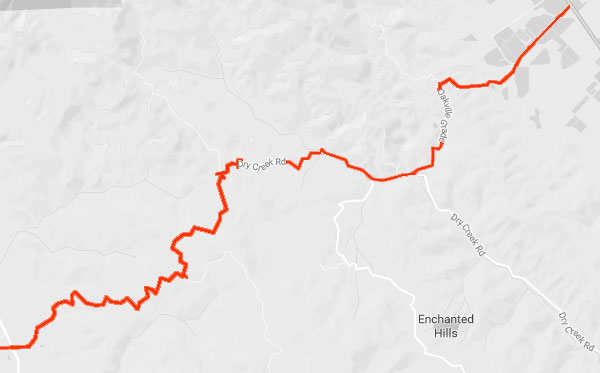 Roads we DID take. Note the much twistier curves. Also note, it's through the mountains.
Seriously, it looked shorter on the map.
Posted: 06.21.17
---