Day 8: What I Want… Is More Wine!
By Matthew Pedone
---
October 24th, 2014
After a good night's sleep, and even a little time to lounge around, breakfast is a tomato frittata, which tastes kind of like yesterday's shirred egg, but with fresh tomatoes, and chicken sausage. Today, we share breakfast with two couples who are traveling together and have been to the area before, and a couple who haven't. We sneak out of the dining room while the assistant innkeeper bends the ears of the newcomers. The other couples thank us for the advice. She didn't steer us wrong yesterday, but we want to get going, and she's going to give the newcomers her whole spiel, and then move on to us, and we just don't have that kind of time.
We set out, heading to Cast first, to buy a couple of wines, then over to Bella to taste wine in their cave system. It's pretty cool. They have a house, and some outdoor stuff, but everything else is done in caves dug under one of their vineyards. The guys serving are fun and knowledgeable, and the wines are delicious. Probably the best across the board we've had (and will have). We walk away with a bottle of their dessert wine and a card, with the intention of buying more online.

We've had wine in fancy tasting rooms, a garage, a warehouse, and now a cave. What next, a castle?
Preston is next door. A bio-dynamic (technically, but uncertified) farm, they are essentially uber-sustainable, though they through around the term "homeopathic" a little too much for my liking. The wine is good, as is the just-pressed olive oil, but we decide to move on without buying.
According to Yelp, Talty is a don't-miss, and according to the map it is just down the street. The winery consists of just two buildings: Michael Talty's house, and his production facility/tasting room/barn. To get to the winery, you drive up a long driveway among his grapes. It is rather lovely. The tasting room is in among the barrels, and he uses empty barrels as tables for tasting. Oh, and the owner comes out and serves you himself, as he is the only employee. Wineries don't get much smaller-scale than this. We buy a bottle.
Three tastings in, we decide to drive for a bit to let things settle. To help with that, I miss the turns for Canyon Rd, and then the turn for Independence Ln. If you know anything about Sonoma, you know what winery is on Independence Lane. If not, I'll tell you that there is only one: Francis Ford Coppola.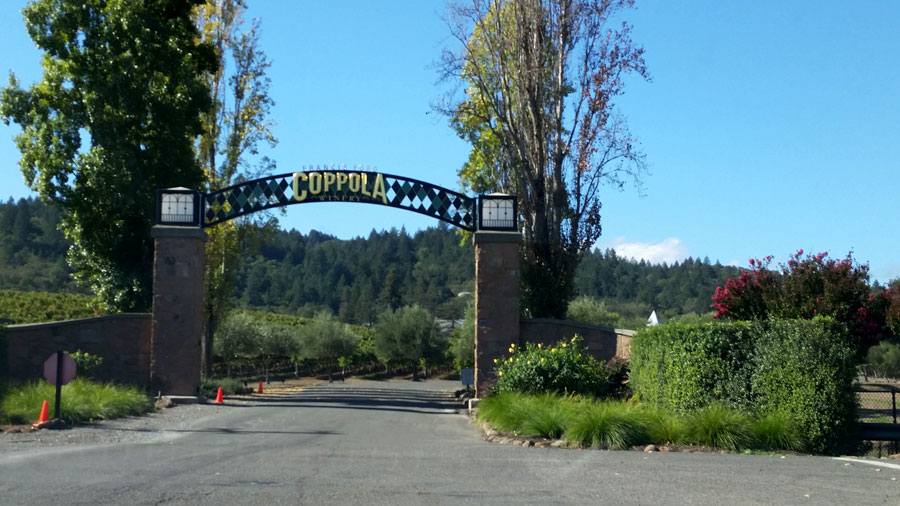 I bet they do a great banana daiquiri!
I will say this up front: if we come back out to Sonoma, we will not go to Coppola again. We wouldn't have gone this time, except that it was convenient, we get a free tasting with the wine pass, and we want to see a massive winery just once.
And it is big, with a glittery sign over the entrance, a very large house inside a large parking lot. We see the desk from The Godfather, as well as props from movies like Tucker, Apocalypse Now, and Dracula, as well as other Francis Ford (and Sophia) movies. Outside, there's a pool, and a bar, as well as the bandstand from Connie Corleone's wedding. We have sandwiches at the bar, and note that the atmosphere is far different than any other winery. Between the pool and the mixed drinks, this is more like an island party place than a Sonoma vineyard.
We head inside and taste some wines we can get at home, but never have, and now, probably won't. They're ok, but tannin-heavy, leaving weird aftertastes. Sorry, Mr. Coppola, the first two Godfather films may be among the best of all time, but your wines aren't. So many of the other wines we've had have been better, but on the plus side, this gives us an appreciation for them.
From here, we head back down 128 into Calistoga for the one winery I've had circled since before we came out here: Castello di Amarosa.
The Castle is technically in Napa, but don't hold that against it. It is quite touristy, being a medieval castle in the middle of wine country, but don't hold that against it. Why not? Because the wine is delicious, and it's a flippin' medieval castle in the middle of California. And it's amazing.
Not even kidding. The owner of the winery (Mr. Dario Sattui) had fallen in love with the castles he'd explored while visiting Italy years back, and decided he wanted to build one for himself. He didn't just buy some bricks and mock up a castle, though. No, he imported stone from Europe, and, though the structure has many modern amenities (like electricity), where possible, he used authentic medieval building techniques. The result is probably the most authentic representation of a medieval castle you can find without traveling to Europe. Some might want to say (as I did once) that it's basically as wealthy man's vanity project, but as his name is nowhere to be found on the building, I'm not so sure that's true (particularly since he nearly bankrupted himself and his other winery while building the castle). Now, granted, it is a winery, in Napa Valley, so it gets a bit touristy, but it's not a trap. It's beautiful.
Early on in the tour, we see the great hall, resplendant with vibrantly colored frescoes covering every inch of the walls, and a 500-year-old fireplace. I'm not sure what's written above the fireplace in the great hall. It's Italian, and they used what I assume is a replica of a medieval font. I've worked out that the Italian reads:
Delle vigne sono il signor e quando mi trovi buono atutti rallegrò il cor e alla morte riposo dono
Which I've poked around on Google to decipher as, Vineyards are the Lord and when I'm good at everyone I'm rejoiced in my heart and death gift rest. Which isn't right, and I'm sure I'm missing some idiomatic expression in there somewhere. I think the "death gift rest" bit is more like "rest peacefully", and "good at everyone" is probably more along the lines of "pleased everyone" or "done everything well" or something. Per an e-mail I recieved from the winery on this mattter, the Italian translates to
"I am the lord of the vines and when you find me good I make everybody happy and give peace of mind."
So, I wasn't really that far off.
The rest of the castle is equally amazing. Eight stories - 4 above ground, 4 below - with 100+ rooms, and most devoted to winemaking. We walk through a lovely inner courtyard, and debate hanging around California a couple of days longer to attend their Halloween party. Moving back inside, we see the torture chamber (if you're going all out on authenticity, you kind of have to include this, unfortunately), and then further underground, to the wine cellars, knight's rooms, and the tasting room. My words don't do it justice. Better you read it in the words of the man himself, Dario Sattui.
Also, the tour is fun. Our guide, is one of those typical "fun" tour guides, cracking jokes, and keeping things light, but also teaching us about the history of the castle and of the wine they make. He gives us a barrel sample, and gives some good instructions on how to taste, and why this year-old wine will be different than the 18-20 year old wine that it will become. I had thought that Coppola's wines were tannin-heavy, and this confirms that.
In the tasting room, he gives us samples of nearly everything, as there are two of us, and he reminds all of us (as we're all in groups of two), that we get 5 tastings each, so if each of us gets a different wine, we can taste 10 different wines. We do, and they're mostly good. We mark two - a red, and a sparkling red dessert wine - to buy. As the tour ends, everyone but us and another group clears out. As that pair leaves, Sarah asks if the flagship reserve wine is really worth the extra 10 dollars it costs to add it to the tasting.
Our guide playfully accuses us of trying to scam him, looks around, then pours us a glass for free. It is quite good, but we're not sure if it is 88 dollars good. He pours us another of the reserves, his favorite of all the wines there. It is a white, but almost a golden color, it starts fruity, with notes of honey, and finishes with a beautiful coconut flavor. He also gives us advice on shipping and travelling with wine. We walk out of the castle with nearly $200 worth of wine, and a shipping box we can check on our flight home, and protect all of this win and olive oil we've bought.
Dinner tonight is a few minutes down the road in St. Helena at Bar Terra, the casual version of Terra, Chef Hiro Sone's acclaimed restaurant, which is next door (pretty sure they share the chef and the kitchen). We'd called when we got to the castle and made a reservation for 6:00, and, once again, we learn that earlier is better, as there is no one in the restaurant when we get there.
We start with a tuna sashimi appetizer, with Japanese cucumber and a delicious soy-based sauce. Apparently, the chef got a couple of tuna in today, and so many of the specials involve the fish. We chose that appetizer, but passed on the entree - half of the fish's head, including eye and brain.
I do appreciate that the waiter tells us about the eye and brain meat, probably so that a customer does not order it and find out that it comes with brains after the fact. There's also apparently only two heads available, meaning that if you order it, you get one of the four servings of it that night. I very briefly consider getting it, just to say I did, but I'm not yet adventurous enough to eat fish eyes or brains.
Instead, Sarah gets Terra's signature dish, soy-marinate black cod, while I get the Bar Terra ramen. The Ramen is good, though a little heavy on the mushroom and nori for me. It does have pork trotter, slices of the pig's foot, which is amazingly tender. The black cod (also known as sable fish) is even more delicious. I don't quite have entree envy, but I can see why it's been on their menu for 20+ years, and why they're known for it. The fish itself is rich to begin with, and marinating overnight gives it a fuller soy flavor. Then, it's roasted (slowly, I'm assuming), giving it a smooth, melt-in-your-mouth texture.
For dessert, we have a chocolate mousseline cake, with chocolate peanut butter crunchies (basically logs of chocolate peanut butter Rice Krispy treats), and toasted marshmallow. It is phenomenal. Reading the little flyer that comes with the check, we are reminded that the restaurant is owned and operated by a husband and wife team. Hiro Sone is the executive chef, Lissa Doumani is the pastry chef, and both have won James Beard awards. That brings our total of James Beard award dining experiences to 5, and 4 in the past 3 dinners.
Also, while Bar Terra is a distinct restaurant from Terra, I am pretty sure they share a kitchen (unlike Ad Hoc and The French Laundry), so, I'm considering Bar Terra as being under the umbrella of Terra, and thus, also Michelin-starred (as Terra has one star). Therefore, this is the first Michelin-starred restaurant at which I've ever eaten.
The theme for this trip might just end up being "Eating Well". Which, if I'm being honest, is my main goal for pretty much every trip we take.
Posted: 07.14.17
---