Day 5: Moving Day
By Matthew Pedone
---
October 21st, 2014
When we planned this trip, our biggest struggle was finding a place to stay in San Francisco. As I noted in my Day 2 post, hotel rooms in the city can be exorbitantly expensive, and, while I am in favor of splurging while on vacation, I have limits. We'd found affordable rooms, but on the outskirts of the city, out near the airport. To do anything in the city would involve at least an hour on public transit, and, as we've learned over these few days, it probably would have been even longer than that (the city has robust transportation, but getting from place to place still takes time).
Plus, we got to stay in an apartment in a residential neighborhood. There's something delightful about that, as though we were moving into the area, not just passing through.
Sadly, as much as we love our airBnB room, we could not stay there for all four nights in San Francisco (it wasn't available for the fourth night). Our plan for the next phase of the vacation is to head north, into wine country, so we decided to spend the fourth night in a motel near the Presidio, just south of the Golden Gate Bridge (technically in the Marina/Pacific Heights, I think, but literally across the street from The Presidio). We can't check in there until 3:00, but have to be out of the apartment by 10:00. Not great, but we're renting a car for the rest of the trip, so we figure we'll go pick it up first, and if we can't check in early, at least we can leave the luggage in the car. Better than schlepping the bags all over the city.
Now, when booking the car, I had a couple of options. I could have rented from the airport, but that seemed silly, as it's the wrong direction. I could have booked someplace nearby, but then we'd have to drive through the city. I went with option three, which took us in the right direction and limited our driving, and booked the car from an office near the Travelodge.
Which meant schlepping the bags all over the city.
Here's a piece of advice that I should have picked up on our first day in San Francisco – if you come to this city with luggage, don't take a bus. Splurge on a cab. Your wallet will be a little lighter, but it's so much less stress. Much like Saturday, we squeeze aboard the crowded bus, but unlike Saturday, there's no room in the front. We make our way towards the back trying to balance our bags and ourselves and pay attention to the stops so that we can get out and transfer to another bus to repeat this whole process. A nice passenger offers us his seat, which helps ease some of the stress.
We finally get to Budget, and the agent is very nice, getting us in an out efficiently, then directing us to the parking garage, which is across the street, which, I guess makes sense in a city like this. I only wish they had spent just a little more on signage, as it takes Sarah and I a few tries to find the right entrance, but we do, and find a Hyundai Elantra waiting for us.
Sarah pulls up directions while I steel myself for driving in the city. I'm not a timid driver, but I am cautious, especially in unfamiliar areas. For the most part, I am a defensive driver. I detest driving in Boston, mostly for this reason. To drive in Boston, you have to be aggressive, and be willing to take risks. You have to pull out of a side street and turn left onto a busy road with no clue what's coming from either direction. For some reason, I just do not enjoy that.
Driving in San Francisco, however, turns out to be much easier. Of course, it helps that we had to go about two miles (shorter than the distance we'd walked the night before to get from The Slanted Door to Ghirardelli Square), and make literally three turns before pulling into the Travelodge parking lot, and taking one of the two remaining spots available.
Inside, I speak to the concierge, a nice guy named Bruce, with an awesome pink mohawk, to ask him if we can check in early (it's still morning) or at the very least leave the car in the parking lot.
"We have a reservation for tonight," I say. "Would it be possible to check in early?"
"I'm sorry," he says, shaking his head. Then, as if anticipating my next question, "Did you find a parking spot in the lot? Okay, leave your car there. Do not move it."
Don't need to tell me twice.
Bruce also tells us that the Palace of Fine arts is just a couple of blocks away, and gives us a couple of other recommendations in the area. As Sarah's mom had also recommended the Palace, we head there first. The Palace of Fine Arts is what's left of a massive expo that San Francisco put on in 1915, that feature multiple "palaces" dedicated to various industries. Some of the buildings have been moved to other locations, but most were simply demolished. People loved the Palace of Fine Arts, though, and through efforts led by Phoebe Hearst (William Randolph Hearst's mother), the palace was saved, though it has been rebuilt once and undergone a couple of seismic retrofittings. You've probably seen it in movies. Probably in that movie that also featured the prison we visited yesterday. Also, apparently, So I Married an Axe Murderer. I don't remember what scene was set there, so I'll have to re-watch the movie at some point. Oh darn.
Come to think of it, that movie also features Alcatraz in a very memorable scene with Phil Hartman. Now I really want to watch it, but I'm getting off-topic. Back to the Palace!
It is a beautiful site, with a central rotunda sitting on a small lagoon, with colonnades stretching out to either side. This is the kind of place I could come with book or my laptop and spend the day reading or writing. After taking some pictures and just enjoying the sun, we head off in search of a bathroom, but the palace doesn't have public restrooms, so we continue on, walking across the street to Crissy Field and its neighboring yacht club. While waiting for Sarah, I take a picture of my favorite sign of the trip so far.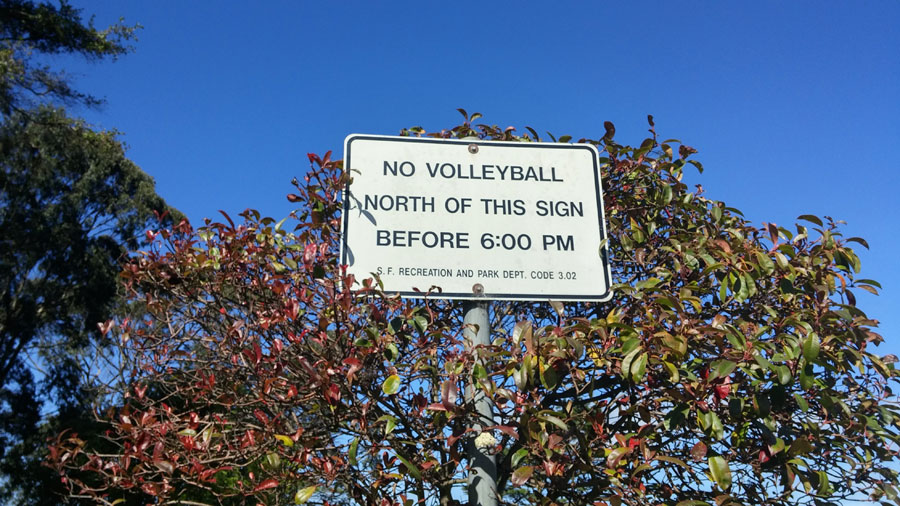 This is in the middle of the field. Apparently, they'd had problems with people playing volleyball North of this sign? South is fine, though, I guess?
We also walk to the edge of the water, and take some more pictures of the bridges and the bay. There's a small beach here, with waves that I would have to describe as particularly large. I've been to some bays, and most just have waves that lap gently at the shore. San Francisco Bay has crashing waves.
We walk back to the Presidio, hiking some steep streets and paths, seeing some great views, before going to the most expensive pizza place ever (rip-off, and pretty much the one food let down on this whole trip – it was regular pizza, nothing special), and then checking in. Nice room, especially for Travelodge. I'm ok with the neighborhood too.
We rest up and lounge around a bit, then head out to catch the 28 to the 38L. The 28 runs up towards the bridge (worried me), then back down through the Presidio. 38L runs West towards the shore. We take it to get to The Cliff House. Flying in to San Francisco, I realized that I was looking at the Pacific Ocean for the first time, and it was time to check off something related to that from my bucket list – seeing the sunset over water. Living on the East Coast, I've seen ocean sunrises, but any time I've watched the sunset, it's been over land. I figured the Cliff House would give us a good view of it, being on a cliff, and all, and I was not wrong. With Land's End to the right of the observation deck, we have a great view.
After that, we discuss what to do for dinner, we eventually agree on the Baker Street Bistro, an authentic French bistro that serves real French food. Waiters are nice, food is good Potato-leek soup was a little weak - not enough veggie flavor. Seafood stew looks good (broth is nicely complex), but there is a ton of it. Canard a l'orange was really good. I even ate sautéed spinach. Profiteroles for dessert are good. The bistro is on the same block as the Travelodge, so it's a short walk home, where we crash early, knowing we have a long day ahead of us.
Posted: 05.17.17
---