Day 4: Slanted and Enchanted and Incarcerated
By Matthew Pedone
---
Monday, October 20th, 2014
Following a fitful night's sleep wherein I snored and Sarah woke up grumpy, we kiss and make up and head out for the day. First stop is to pick up some bagels at a shop a couple of blocks down 9th Ave. We're heading to Alcatraz today. Or, as the locals call it, Dwayne Johnson. Or something like that. Our boat leaves at 12:30, and we're to be there by Noon. Our plan is to grab breakfast (the bagels), head out to the Embarcadero, find some coffee, then make our way to the pier.
We hop on the Muni Metro to Embarcadero Center, where we hop on a jam-packed streetcar. At Pier 33, most of the people get off, as they are going to Alcatraz, as well. We stay on until Pier 39, so that we can check out The Springfield Squidport. I mean Downtown Disney San Francisco. I mean Fisherman's Wharf. Sarah had the brilliant idea after seeing the massive crowds there from the Big Bus yesterday that the better time to go would be early on a rainy Monday morning. Maybe it won't be as crowded and touristy and tacky. I'll settle for just not crowded.
We get there at 10:30am with our raincoats on, and she was dead-on-balls accurate. There are some people milling around, about the equivalent of a mall on an early weekday morning. It is still touristy and tacky, but at least it isn't crowded. We check out the sea lions and try out the mini-donuts that came highly recommended. They were delicious. The sea lions were there, the entire mass of them sleeping in two large piles on rafts in the water. Yup, we saw them. Moving on. We pick up some coffee, eat our bagels, and head back down the Embarcadero, leaving Pier 39 behind us. We saw it, we don't need to go back. They have a Bubba Gump Shrimp Company restaurant. That's all I'm gonna say about that.
We get to Alcatraz Landing with plenty of time to spare, and relax a bit before getting in line. Around Noon, we get in line to get in line to board the boat. We queue up and shuffle aboard, finding seats on the upper deck. The trip is short, but gives us great views of the bridges before pulling in to Alcatraz Island.
The tour itself isn't really a tour. They do have guided tours, like you see in movies, but that's something else you have to sign up for. In general, you're left to your own devices, though there is a free self-guided audio tour available in the main prison building. So, we set off to the main building. Something you don't see in movies is people getting from the dock to the main building. We walk up. And up. And up. And up. And up. And up. And up Alcatraz Island. The hike from the dock to the main building is the equivalent of climbing 13 stories. It feels it.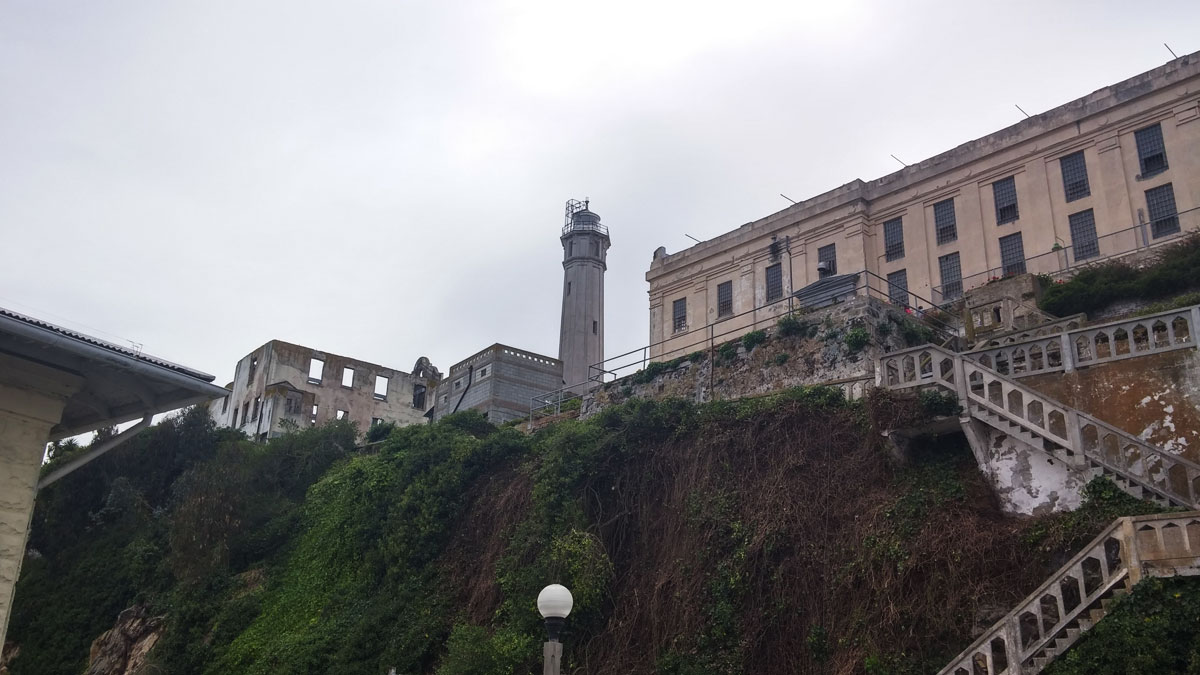 This is a ways up. It's not 13 stories high (I don't think), but the route to get to the main cell block is circuitous.
We get the headset and audio player, and then climb (more!) a set of stairs to start the tour. It's led by a former guard who sounds like R. Lee Ermey. He orders us through various sections of the prison, while other guards and former inmates tell stories.
Hearing the stories is a little creepy. Well, not creepy, but sobering. These are tales of one of the more infamous prisons in US history, being told by the men themselves. Guards who patrolled these corridors and men who lived in these tiny, concrete cells. It's one thing to hear the stories. It's another thing entirely to stand in the place where it happened and hear those involved tell them. We peruse the gift shop, then head upstairs to see some of the Ai Weiwei exhibit and the medical facilities. After all of this, we are a little overwhelmed, and glad to step outside into some fresh air.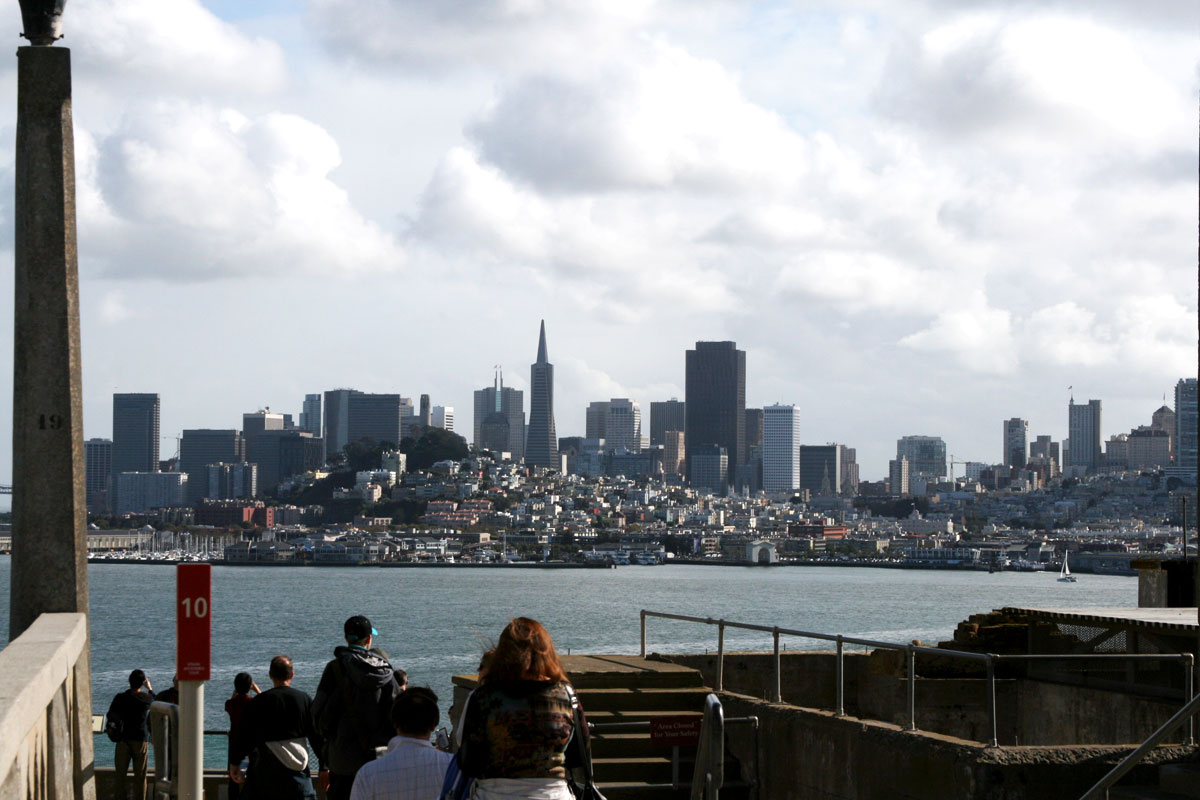 "When I'm rehabilitated, I'm gonna live over there...well, no, I wouldn't be able to afford it, but maybe I can visit once in a while."
An interesting feature of the prison that the audio tour mentions a couple times is that being located in the middle of San Francisco Bay, the prison afforded the prisoners fantastic views of the city, so close, and yet, so far. I think part of the hope was that seeing a beautiful city so close by would remind the inmates what they were missing due to their criminal ways. Human nature being what it is, I'm guessing they just felt they were being taunted.
After a bathroom break, we walk around the outside of the main building, taking pictures of the skyline, the bridges, and the plants of the island, particularly in the gardens started by the inmates, and maintained to this day. We walk around the backside of the island, thinking that the path will lead back to the front again, as it seems to on the map. Nope. Back up a monster flight of stairs, we find ourselves in the prison yard and have to head back through the gift shop (for, I think, the third time - they really funnel you through it).
Outside again, and on the right side of the building this time, we decide to head over to where we'd been trying to get, the work buildings, to see the bulk of the Ai WeiWei exhibit. It's interesting – large mosaics built with Lego, depicting the faces of political prisoners from around the world, people arrested for speaking out against their government, as he was back in 2011, or even for just being who they are. A massive, vibrant Chinese dragon hangs from the ceiling, snaking its way through the building, with quotes on freedom hung around it.
All in all, this was far from a light-hearted excursion, but one I'm glad we undertook. Not sure I'd ever do it again, but we got to see a bunch of places where the move "The Rock" was filmed.
We head back to the boat, hoping to make it on board so that we don't have to wait an hour for the next one. We just make it, and find seats inside, near the entry. Back at the Embarcadero, we emerge from Pier 33 just in time to catch a streetcar back to the Ferry Building (Pier 1), where we hit up the Boccalone deli for some sandwiches for Wednesday just before they close (another reason we'd been anxious to get on the return boat). We didn't have a dinner plan yet, and we decided to poke around the Ferry Building and see if any of the take-away options look interesting.
There is, of course, a fantastic restaurant in the Ferry Building, The Slanted Door. There are, of course, no reservations available today. We checked on Saturday for each night we were going to be in the city. Nothing. Similarly, nothing in the mall area of the building really strikes our fancy, so Sarah enacts plan, "it never hurts to ask". She pulls a long-sleeve shirt out of her bag and I put it on to cover up my Calvin and Hobbes shirt, and we head into The Slanted Door. It's about 5:45, and they've just started serving dinner.
Sarah approaching the hostess, tells her that we don't have a reservation, and asks if there's any chance there's a table for two available. The hostess's assistant gives us a look somewhere between distaste and contempt, but the hostess checks the book, and tells us that if she can sit us now, and we can be out in 45 minutes, they have a table.
Success!
Sitting near the kitchen, but still with a great view of the Bay Bridge, we get some caramelized pork belly as an appetizer, which is caramelized pork belly. How could that not be good? For entrees, we go with the highly-recommended chicken claypot and cellophane noodles with Dungeness crab. The chicken is good, sweet and juicy. Sarah tries the noodles and gives me a look. She likes them, but she worries that the taste of the crab will be too strong for me. Timidly, I took a small bite.
My wife is right about a lot of things, and she knows the kinds of food I like pretty well. I have to say, though, she was wrong about those noodles. I loved them. The crab flavor is there, but not overpowering, and works so well with the delicate noodles. I could have just eaten a large bowl of those noodles and called it a night.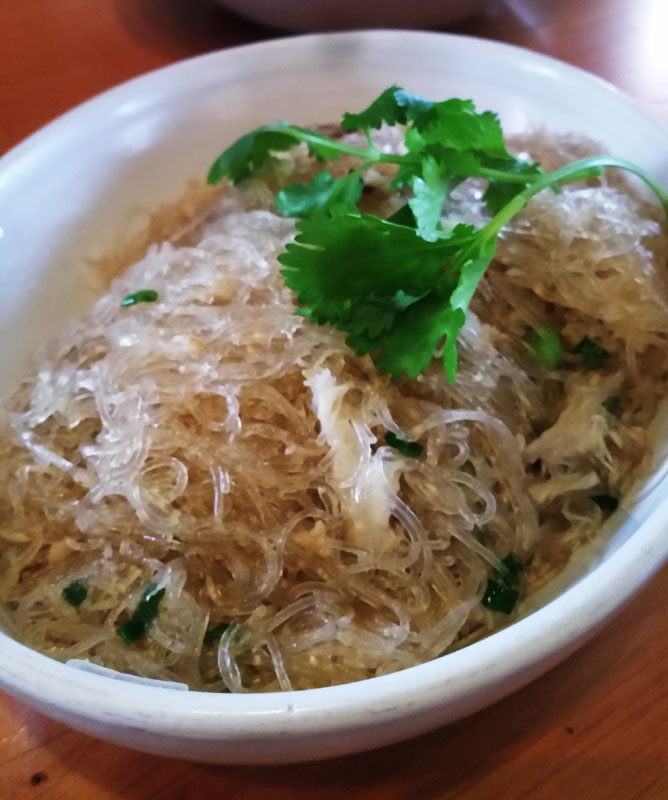 A bowlful of awesome.
We finish up and pay, well short of the 45 minute deadline, and head outside. As the daylight fades, we relax on a bench by the water, watching the big cargo ship glide through the bay, basking in a meal well met. Sarah studies a map, and determines that Ghirardelli Square isn't that far away. We hadn't been thrilled with the Slanted Door's dessert options, and Ghirardelli happens to be one of our favorite chocolate brands, as well as a favorite stop for ice cream when on vacation. So, the chance to see their headquarters and get some ice cream? I'm in.
According to the map, it's just past Pier 39. We're at Pier 1, but the numbers are deceptive; the Ferry Building is at the middle of The Embarcadero, with the even-numbered piers to the south, the odd-numbered piers to the north. So, Pier 1 to Pier 39 is only 19 piers. It's still close to a mile and a half. That's okay, though, we eat decadently on vacation, and we are about to get ice cream. Work off some of those calories.
Here's the thing though: earlier, I mentioned that we'd gone to see Fisherman's Wharf before heading out to Alcatraz, right? Well, I was a little wrong. We went to Pier 39, which is a part of Fisherman's Wharf. Probably the most well-known part, and the one most people think of, but still, only a part. The actual Wharf area continues beyond that. Ghirardelli Square is indeed "just past Fisherman's Wharf", but the far side of it. It looked closer on the map.
The upshot of this is that we get to see more of Fisherman's Wharf. I would like to say that the rest of it is less tacky and touristy than Pier 39, but I can't. I really, really can't.
At any rate, we finally reach Ghirardelli Square, and the walk was worth it. The ice cream is pretty good. I've had better, but we're not there for the ice cream. We're there for the toppings. We're there for the chocolate. And the chocolate does not disappoint. Also, being their headquarters, the shop has an awesome display of the chocolate-making process featuring some of their original equipment making actual chocolate.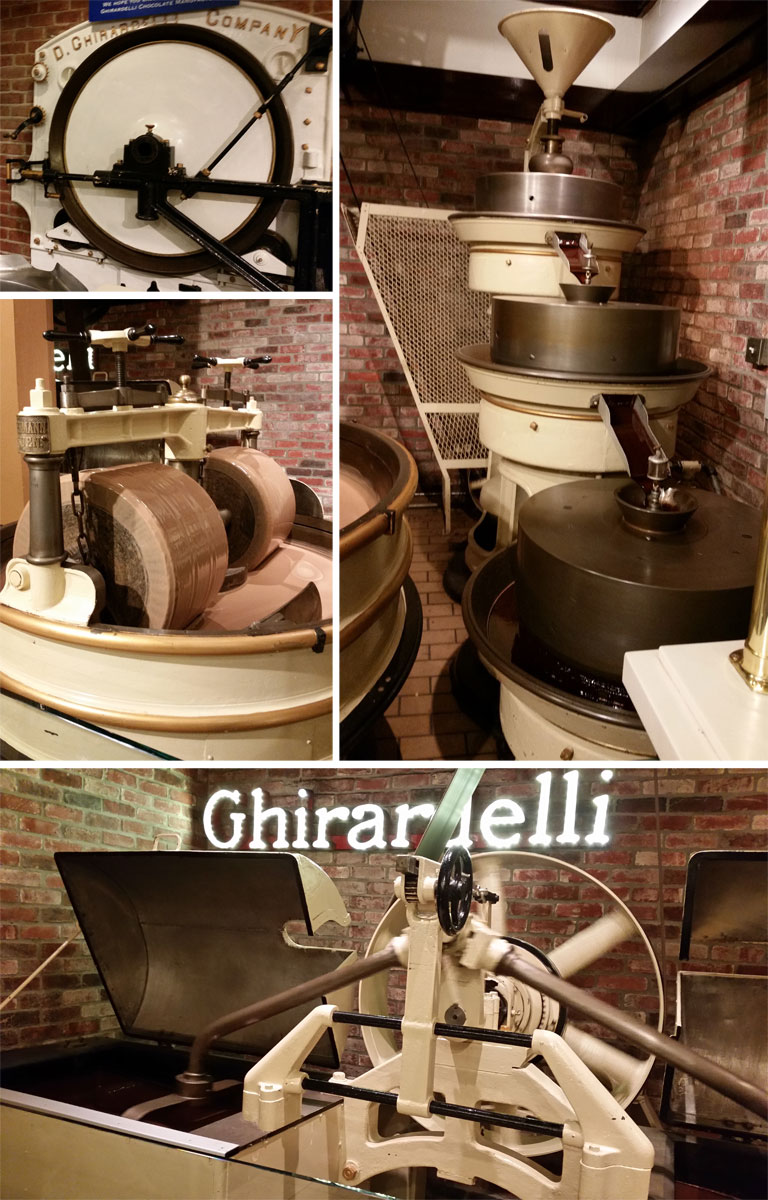 In America, first you get the chocolate, then you get some more chocolate, and then you get...EVEN MORE CHOCOLATE.
We head outside and eat our ice cream at a table and linger for a bit, resting our feet, then head up the street to catch the bus back to Inner Sunset. It's been a good day, but long, and we're both excited to stumble into the apartment and crash.
Posted: 05.10.17
---