Day 1: The Adventure Begins
By Matthew Pedone
---
Friday, October 17th, 2014
Alarm goes off at 6:00. It's always nice to sleep in to start a vacation. Yes, 6:00 am is "sleeping in" for me. Not by choice, but that is one of the joys of working in Massachusetts. I silence my alarm before it wakes Sarah, and head into the other room to read for a bit. I hear her alarm go off around 6:30, but she sees that I'm up already, so she goes back to bed. I decide to get the computer ready. Our flight today isn't until noon, but our flight tomorrow is at 6:55am, meaning we have to check-in today at 6:55am. Ugh.
The plan is: we fly out to Detroit (with a stop in Baltimore, because Southwest Airlines). Rent a car, check into a hotel in Romulus (10 minutes from the airport), drive out to Ann Arbor, watch UNH get creamed by Michigan, drive back to the hotel, sleep a few hours, return the rental at 5am, take a shuttle to the airport, and get on our flight to San Francisco (with a stop in Denver, because San Francisco is far, even from Detroit) at 6:55. This is not the best plan, as it means getting up earlier on the second day of our honeymoon than on the first, but this flight gets us in to San Francisco around 11. Anything leaving at a more reasonable hour basically costs us a day in California.
So, I'm up at 6:00am on the first day of our honeymoon checking us into the flight. I get the boarding passes printed, then set about with last-minute prep. Around 8:00, I wake up Sarah, and we start getting ready. Everything's going smoothly until I get a text from Jim, our ride to the airport, at 9am, saying that he's here an hour early. I invite him up, but he doesn't respond, so I shrug and continue on course. This throws Sarah into slight disarray, though, as she doesn't know why he's early.
"Maybe he has something to do today? We should get going. Is he coming up? We should head down."
I reason with her that he didn't say he needed to go early, just that he was here early, and we have some eggs, and head out a half hour earlier than we expected.
Which turns out to be a good thing, as Sarah needs to get stamps for the thank you cards that probably could have waited until we got home, but I think planning and packing went a little too smoothly for her, and she needed something else to do. It's fine, though, and good to get them done sooner rather than later (and it has been two months since the wedding). Sitting at a table, watching her stamp 20 envelopes might be one of the stranger things I've done at an airport. Then again, I've led a pretty vanilla life. Anyway, after a brief panic-moment involving the misplacing of our boarding passes and luggage claim checks (turns out the Southwest pass holder blends in really well with the magazine covers at Hudson News, and you can forget you put it there), we move on to security, and the incredibly long…I mean, non-existent line. Ah, the joys of flying on a Friday.
The flight is full, and our B-level boarding pass numbers mean a struggle to find two seats together. We do, in the very last row of the plane. Not complaining at all, as we're together; we've had some flights where we've had to sit apart, and it's not great. Interesting note: that phenomenon of buses that leads to school kids fighting for the rear-most seats because they're behind the rear wheels and thus the bounciest? Yeah, it's true of airplanes, too.
In Baltimore, we hit up the Silver Dinner for some milkshakes to go (just amazing – a must get every time we're at BWI), and then some Auntie Anne's pretzels. On the flight to Detroit, we have A-level boarding, but the last two A's. That's fine though, as we're virtually guaranteed to get seats together. And we do. Front row!
The front row is actually a little cramped, it turns out. Probably the same amount of leg room as in the normal seating, but with a wall in front of us where the next row of seats would be, meaning no space to stretch out. Being in the first six people off the plane is so worth it, though. After a wait for our bags, we traverse the escalators and skyways to get to the rental car shuttle. The driver helps us on and off with our bags, and leaves us at the rental car office, at the back of a line that stretches out the door, and almost to the street.
Inching forward, we start to hear rumblings about the issues inside. Peering in the windows, we see lines snaking around the room like a queue at an amusement park. At the counters, rental agents are filling out forms in pen. Word comes out that their computer systems have gone down, and they're doing everything by hand, making what's not a speedy process to begin with take exponentially longer. In half an hour, we haven't made it to the doors, let alone inside. Eventually, we bag it, figuring we'd eat the $18 rental fee at Dollar, and head across the street to Budget. We navigate our luggage out of the parking lot, but with no sidewalks on either side, and a chain link fence to get around to get into Budget, Sarah suggests we just go to Enterprise, as it was next door, and a little closer.
We walk in, and after a brief wait, we talk to a rental agent.
"We were over at one of your competitors, and I think you can expect more business, as their systems are down, and people are frustrated with them," Sarah tells him.
"Which one was that?"
"Dollar," I say.
"Oh yeah?" he says. "I heard Budget is having the same issue."
Dodged a bullet there.
(I'm sure this will be the last time this trip we have any sort of issue getting a rental car.)
So, we get ourselves a nice little Rav-4, head over to the Holiday Inn (I recommend it if you're stuck in that area), then head out to the game.
Parking around Yost is tough, but I have to say, the location is great for coming from the airport. 94 West, exit 177, turn right, drive until you get to the sports complex, then find parking.
I also have to say that at this point, I am going to start gushing. Fair warning.
We find parking and head to the arena. We approach from the back, but this isn't clear, so we stop and ask an attendant at the side doors where we should go for will call. We follow his directions to the main entrance, where another attendant directs us to the will call, as our fellow UNH fan Darci had picked them up earlier, and left two for us. After a brief but fruitless search, I explain this, and the woman remembers this and directs us to the other window, where we get our tickets, and directions to our seats, as well as advice that we should take the long way to see the rink. Along the way, the rink staff we pass notice my UNH jersey and welcome us to Yost Arena.
This doesn't happen at most arenas I've visited. At best, rink staff is polite. Usually, they're indifferent. Sometimes, they're a bit hostile. At Yost, they were downright friendly. It may have something to do with the fact that the building itself is impressive. It's an old barn, and still has that feel, even though it's clear they've renovated the inside (which, I guess makes sense, as it was originally a field house, and only converted to a hockey rink about 40 years ago). So, there's a sense of importance in visiting it. That said, I've visited more historic rinks – I've been to Matthews Arena more than a handful of times. It's the oldest hockey arena still in use. If any rink staff should be reminding visitors about the historical import of the building they're in, it's the Matthews staff. Then again, it's in Boston, so the cold indifference you get there is actually they're way of being friendly.
Moving on, we find our section, and at first, I think our seats were next to the Michigan pep band. Groan. Pep bands are ridiculously loud, and don't care for visiting fans. Fortunately, we're a couple of sections over. Right next to the main Michigan student section, and right in front of the secondary/spill-over student section. Uh-oh. I've been in this situation at other rinks, and it doesn't go well. Especially with student sections like Michigan's, in which the section is full well before game time, and everyone is wearing the school colors, most of them in jerseys.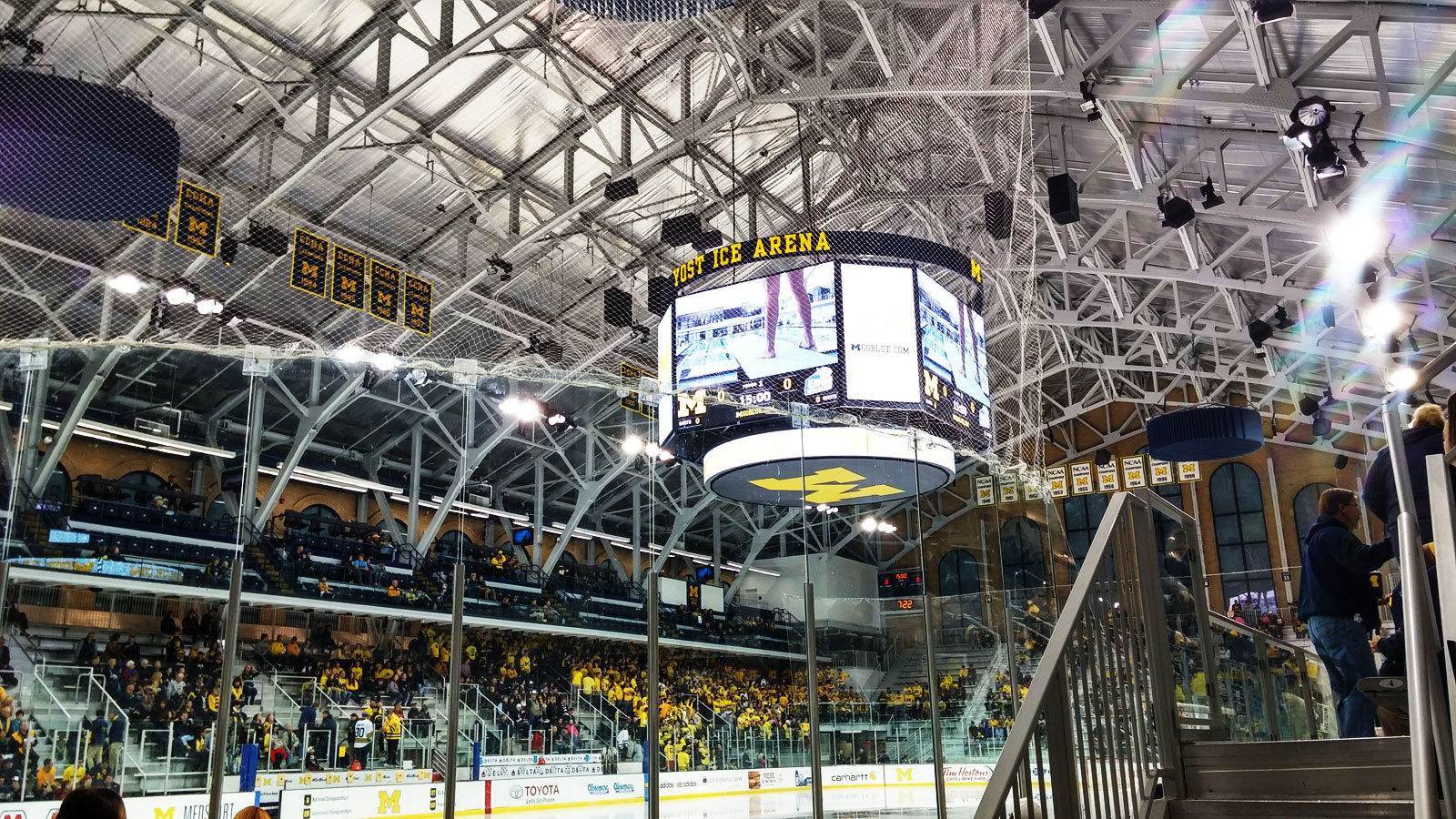 See all that yellow across the rink? Yeah, we'll be right next to that, cheering for the enemy.
We find our seats and greet the Hosers (our little group of UNH fans). While I'm debating whether or not to play the cowbell, the Michigan fans launch into one of their pre-game rituals - singing "O Canada". Frankly, this song needs to be sung at hockey games more often. Yeah, our schools are US schools, but the game is Canadian, and we have Canadian-born players. We should honor them, too. Plus, it's a great song. I start to worry less about these fans. On top of this, there was no pre-game razzing directed at us. Nice change.
Before the teams take the ice, they show a montage on their massive center-ice scoreboard, accompanied by the song "All I Do is Win". Clearly someone in marketing was reading the USCHO message boards back in 2003, when we coined the unofficial Michigan slogan, "All they do is win."
The band plays "The Star-Spangled Banner", and the student section sang along. Awesome. I wish our fans would do that. Our band has started to play the anthem more, but the fans still just stand there and listen.
On to the game. We play the cowbell without incident. Michigan fans are worse than UNH fans when it comes to complaining about reffing, though call that leads to UNH's late power play is a bit borderline. To make it worse, UNH scores. This is when things get interesting. We stand up and cheer. We sing "Rock n Roll Part 2" and call their goalie a sieve. At other rinks, this is when things get personal. This is when fans tell us to shut up, or yell at us to leave, or mock our weight or our looks. Michigan fans?
They cheer over us.
It sounds counter-intuitive for me to say, but that is awesome. That is what I want fans to do in that situation. "These fans are invading our turf, and they have the gall to cheer? Let's drown them out." It makes so much sense! You're in a group of hundreds of students. We're a group of five. Maybe ten. You're going to be louder than we are, and you won't be able to hear our celebrating. Michigan students get it. They do it for all five of UNH's goals, with different cheers each time, all of which attempt to mock us, but in a way that isn't mean-spirited. Supposedly the claws come out against rivals, but UNH is pretty much nothing to Michigan, so it is a playful atmosphere.
When all is said and done, the scoreboard reads 5-1 in UNH's favor, but it could be argued that it wasn't even that close, as Michigan couldn't get one past Clark until a fluky play with just over three minutes left in the game. Through it all, though, the Michigan students cheered and danced and enjoyed themselves. That's what hockey should be!
After the game, we decide to get some food with the Hosers. We had seen a Buffalo Wild Wings on our way in, and we all agreed to meet up there. Back at the car, we fire up Waze on my phone to get us out of the neighborhood we're in, following its directions even though they feel circuitous, and like they're taking us the wrong direction, further into campus, which, of course, they are. We end up at some sort of park, with no restaurant in sight. This is clearly not where we meant to go, and so we turn around and make our way back past Yost the way we came. Eventually, we find the restaurant we'd seen earlier, make our way inside, and look for the Hosers. I text them, and they claim they're already here. Only, they're not. They assure me they are, in fact, inside Buffalo Wild Wings in Ann Arbor, Michigan. I check the map, and so are we. So why aren't we in the same one?
As it turns out, that park that was clearly not where we meant to go was pretty much exactly where we meant to go. There are two in Ann Arbor: one on (or near) campus, and one near the highway. We had meant the one near the highway, they meant the one near campus. This is why I always say you can't trust GPS, because sometimes it takes you to the wrong place, thinking it's the right place because you don't know this place even exists and you inadvertently told it to take you to the wrong place, thinking it was the right place, when the right place was someplace completely different.
Okay, that makes almost no sense, and I never say that.
What I do say in situations like this is that this is why you shouldn't trust technology 100%. Of course, I say this while using this same technology to get me out of the situation. Well, I'm sure it will work fine the rest of the trip.
Anyway, this was probably for the best, though. While it's fun to hang out with them, we have an early flight in the morning. We get some food to go, and eat in the hotel room, as it's already 11, and we have to be up at 4:30am. In retrospect, we should have eaten at the rink, and just gone back to the hotel. Going out was not a good plan.
About a year before the trip, we started to hear rumblings about UNH playing at Michigan. We hadn't set anything in stone, but we knew we'd be flying to California in October. When the hockey dates were firming up, and it became clear that the games would also be in October, I was excited, but Sarah was hesitant. She had trepidations about starting our Honeymoon in Michigan, at a hockey game (a UNH game, at that, as she's a BU fan). She'd been to Yost before, so it didn't have the same allure for her as for me. I made my case that Ann Arbor is on the way to San Francisco (which it is, technically), and we could go to the Friday game, starting our trip one day later than planned. She warmed to the idea, especially when she realized that our original idea of flying to California on Friday meant that we'd get in so late that the day would essentially be a waste anyway, and the Michigan trip became a reality. I am very thankful she indulged me, and, in the end, I think she enjoyed herself.
Posted: 04.19.17
---