Part 4: Let The Experiment Begin
By Matthew Pedone
---
Tweeter Center, Mansfield, MA,
July 2nd, 2003
Sometime after the 2000 concert, I noticed something odd about the shows I'd attended. They were all about two years apart, but not quite. The first was in October of 1996. The second in September of 1998, and the third in August of 1996. The second show was 714 days after the first. The third show was 713 days after the second. That's a pretty cool pattern. Extrapolating from that, my next show should be August 12th or 13th, 2002. Unfortunately, the band did not tour in the summer of 2002, as they had just finished recording their seventh studio album, Riot Act, due out in November of that year.
Personally, I probably wasn't in a great place to see Pearl Jam in 2002. My grandmother passed away early in the year, I graduated college in May, and was asked to leave my job at UNH in the October. I'd thought about going back to school, but a Masters of Fine Arts in Creative Writing is about as useful as a degree in English, and I already had one of those (as well as an equally useless degree in Mathematics for which I barely qualified). So, I just set about looking for work. Eventually, I ended up taking a job with a temp agency, doing data entry. My one and only job through the agency was entering names and addresses for law firms and lawyers into a database for a publisher specializing in directories of lawyers. It was just about exactly as exciting as it sounds.
I did get to listen to music, though, so I'd bring in my discman and listen to CDs. I was still big into indie stuff, but with college behind me (as well as losing touch with a couple of friends who got me into indie music), my tastes were veering back towards mainstream. I still liked some lesser-known bands like Hum, Far, and The Promise Ring, but I also regularly spun bigger names, like Death Cab For Cutie and Jimmy Eat World. The Flaming Lips' "Yoshimi Battles the Pink Robots" also got a lot of play around that time. I mean, none of these bands are selling out massive stadium tours, but they're also not playing to 50 people at The Stone Church, either. Pearl Jam's Riot Act got a fair share of play, as well.
Is this just another phase?
It's a pretty great album, and I would like to think I recognized it as such at the time, but that's not entirely true. Here's the thing with Pearl Jam albums through Riot Act: even after the folksy No Code and the Beatles-esque Yield, I was waiting for the band to return to the bombastic arena rock of the first three albums. It took me a while to realize that wasn't who they were anymore. When I finally came to terms with that over the couple of years following the release of Riot Act, I began to like albums like it and Binaural way more.
Whatever my feelings on the new albums were, I knew that I wanted to keep seeing them in concert. I also knew that I wanted to have actual seats at The Tweeter Center, and be a little closer to the stage. So, in 2000, I finally joined the Ten Club in the hopes that the next time the band toured, I could put in for tickets, and be one of the lucky ones sitting a little closer to the stage. I registered, paid my dues, and waited.
As noted, the band didn't tour again until the summer after the release of Riot Act. I didn't mind, though. Once I got the order form, and was able to send away for tickets to night one in Mansfield, I was over the moon excited. The one problem was that in the still fairly nascent days of the Internet-as-marketplace, everything was done by snail mail. You sent in the order form, they sent back a confirmation and instructions. Which meant a torturous period in which you hung in limbo, not quite sure if you'd gotten tickets or not.
The rest of the tickets went on sale to the public before we found out. I think I tried to buy tickets through TicketMaster's website, but was shut out as, once again, the two nights of the show sold out in minutes. Seeing this, Pearl Jam announced a third show, a little over a week later. Strange, but either the Tweeter Center had something already scheduled for the 4th of July, or the band just didn't want to play on the holiday. Whatever the reason, they scheduled the date for the 11th of July. I pounced on this new sale, and acquired two tickets.
Now, at the time, I was working for the graphic design school at which I had taken classes over the past few months. I call it a school, but it was really more of a training center, which is fine. I learned a lot about design there, both graphics and web design, and that's a big reason why I'm able to do what I do on this website. It's just that it's not like I went to RISD, or anything. Also, I call it "working at", but it's not like I was getting paid. I was an intern, and back in 2003, you didn't have to pay interns (given the fact that the school closed later that year, I'm not sure they could afford to pay interns. So, while I had some money saved away, it really wasn't in my best interest to buy four tickets to a Pearl Jam show.
However, I wanted to go to one of the shows, and I wanted to bring my mom. Those of you who've read my piece on Queensrÿche's Empire know that much of my musical taste was shared and shaped by my mother, and vice versa. Growing up, we listened to music in the car, and so, what one of us listened to, the other listened to, as well. She was into Dire Straits, so I was into Dire Straits. I got into Pearl Jam and 90s grunge/alternative, she got into 90s grunge/alternative.
I call this a "win-win".
According to people today, back in 2003, getting tickets through the Ten Club was smooth and easy. I don't remember it quite that way. It was my first time getting tickets through the club, and I distinctly recall there being ZERO guarantees that I would get the tickets I requested. So, I went on TicketMaster and bought tickets to the third show. Maybe those people were right, and the Ten Club was a guarantee, because at some point, I got a notification that I had won tickets, along with instruction on how to pick them up.
This shit's too good to be true
Okay, so now I had two sets of tickets, but I could really only afford one (and, I think my mom was really only interested in going to one show). So, I put the tickets up for sale on eBay, and met up with a dude a few days later in the Best Buy parking lot. They were pretty good tickets. I probably should have kept them, but did I need to see Pearl Jam twice at the same venue, on the same tour?
I'll answer that question later.
As the day of the show approached, Bagley and I tried to figure out our best course of action. He was teaching school in Connecticut, but as it was summer, he'd be in town for the shows. Somehow, we'd gotten confused about the ticketing process. We knew that the club member who'd bought the tickets had to be present to pick them up, and we knew that the tickets were "first come, first served", and that your membership number had something to do with it. We took that to mean that while we were guaranteed tickets, the earlier we picked them up, the better our seating would be.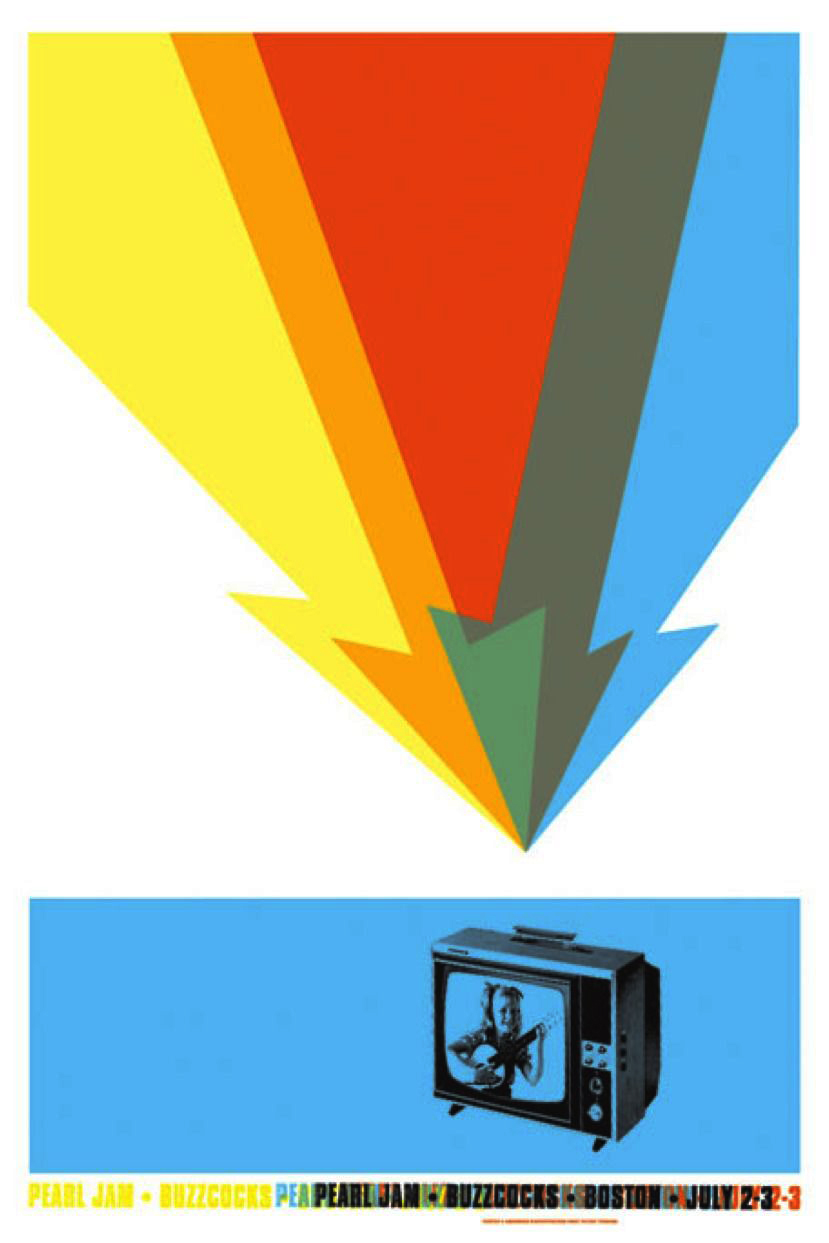 Another poster I wish I had bought at the time.
So, Bagley and his crew got down there pretty early. I convinced my mom to drive down early as well, and we met up with them, tailgated for a bit, then headed to the box office to wait some more. Turns out, we got down there way too early. Fortunately, there's a nice grassy area in front of the venue where we sat and relaxed until other fans started to queue up. Bagley and I headed over to the line, and waited patiently for our tickets. I tried to keep my anticipation down, but I wanted to know where my seats would be. We were near the fronts of our lines, so surely we'd be down low, right? One of those sections near the stage?
How the seat assignment actually works is really quite simple: your seats are based on your membership number. Lower number, better seats.
Now, the issue here is how do you qualify seating? Closer to the stage is generally better, but what if you're very close to the stage, but at such a sharp angle that you can't see anything? What about arena shows? Are the seats behind the stage better than along the sides? They're closer, but you're looking at the backs of the performers all night.
My membership number was lower than Bagley's, so I got better seats, technically. We were in section 6, but in the back half of the section. Bagley was in section 4, but in the front half. Section 6 is right in the middle of the seating area. Section 4 is off to the side. So, technically, Bagley was closer, but I had the more direct view. In the end, it didn't matter – they were the best seats I've ever had to any Pearl Jam show, and probably ever will.
I do feel bad for dragging my mom along for all of this. Not for taking her to the concert, but for dragging her down early, for making her hang out in that sun-baked parking lot with a bunch of 22-year-olds that she didn't know (I barely knew most of them) because I didn't understand the ticketing system, for having to sit through the opening band (The Buzzcocks, a British punk band – not exactly her speed). After all of that, though, we got to see Pearl Jam, so I think it was… Well, maybe not entirely worth it… Let's just say I think the day ended better than it began. For the most part.
---
Oceans
In the parking lot before the show, we'd been discussing songs we wanted to hear. As most of our group was just out of college, we talked about the harder-rocking songs. While mom likes some of those, she prefers the quieter songs that showcase Ed's magnificent voice. So, getting this song right out of the gate is a good start for her.
As for me, fourth show, fourth different opener. I'm sure I've mentioned this before, and it won't be the last time I say it, but this is what is awesome about seeing Pearl Jam in concert – it's rarely the same twice. Ed's voice sounds great, and the crowd is into it.
Go
A slightly jarring shift in tempo, but I like it, as does the crowd. Ed sounds good barking out the single words, and Mike torches the solo.
Hail, Hail
Ed takes a brief moment during the beginning of this song that opened No Code to address the crowd.
How you doing?
I said it was brief. After the "bandaged hand in hand" line, he asks the crowd to clap along, which I'd never thought of doing before, and the crowd responds, but is unsure how to clap along to such a fast song. Everyone seems to be having a good time.
Save You
I've dabbled in electronic music, partaking in the annual RPM Challenge a number of times. The RPM Challenge was started by a small weekly newspaper based in nearby Portsmouth, NH, and is simply a challenge to write and record an album in the month of February. Nothing I've done is particularly good, but what was always fun an interesting was setting up the track listing. Do you set up the tracks in the order you recorded them? Do you have a through-line or a concept, that determines the order? Do you put them on in alphabetical order, like Frank Black did on the self-title debut of Frank Black and the Catholics?
The first song can be one of the most important. At least, it is in my mind. As I've noted, I prefer to listen to the album straight through. Sometimes, I'll listen to a specific song if I'm in the mood, and often, there's a song or two that I skip, but in general, I put on an album and start with track one. So, to me, that has to be the track that hooks the listener, gives them an idea of what the album is going to be like, and is something they're going to want to listen to again and again.
When Riot Act came out, Bagley heard it before me, and said, "'Save You' should have been the first track." When I listened to it for the first time, I couldn't help but agree with him. It's such a hard-hitting song, more like the rockers of Vs. and Vitalogy than much of what they'd put out over the past couple of albums (certainly over anything on Yield). Instead, they went with "Can't Keep" a ukulele-led song that would eventually appear as the opening song on Eddie's solo album, Ukelele Songs. While I've come to appreciate the gentler sound of "Can't Keep" as the opener to Riot Act, at the time, I was confused by the choice.
It's great to hear live, though, as Ed belts it out, and Mike follows suit, lighting up his guitar on the solo. I know what the song is about - the frustration of watching a friend ruin their life and trying to help – the lyrics are pretty clear:
Let's pick up your will, it's grown fat and lazy
I'm sympathetic as well, don't go on me now

And I'm not living this life without you, I'm selfish and clear
And you're not leaving here without me, I don't want to be without
My best friend, wake up to see you could have it all
I'm not sure who the song is about – there is speculation it's about Layne Staley or Kurt Cobain. The obvious choice is right there next to him on stage. Through the first decade of the band's existence, Mike McCready fought substance abuse. The recording of Binaural was hampered because he went back into rehab. So, it wouldn't be hard to picture Ed watching this amazing man with so much going for him wasting his life on drugs and getting pissed off. Of course, it could just be a coincidence. I like the thought of the band writing songs about each other, though.
It may just be in my own head, but I like to think the "Nothing like your baritone" lyric from "Nothing as it Seems" is Jeff describing Eddie's voice, and "I don't want to be without/my best friend" is Eddie talking about Mike. I'm sappy like that.
Ed addresses the crowd after the song.
Good evening. It's nice to be back in Boston. Thanks for coming out in such a large, organized, ready to go for it group. You look great from here. What do you think, should we have a Boston Tea Party? Or a Boston Drink Wine Until You Pass Out and Dream You're in Prison Party? This next song's called 'Deep'.
Deep
As the band gets older, I imagine this to be one of the songs that gets harder to play, particularly in terms of Ed's vocals. I'm okay with that, as it's not one of my favorites. Ed sounds great tonight, though, and I'll gladly sing along, probably to my mom's chagrin.
Get Right
A cool song off Riot Act, with music and lyrics by Matt Cameron. The chorus is a lot of fun to sing along with. I like the staccato palm-muting used in the verses, with the guitars letting loose in the chorus. Mike's solo on this is a lot of fun, too. This song doesn't get played anymore, which is a shame.
Dissident
And to this day, she's glided on,
Always home but so far away,
Like a word misplaced.
What a fucking waste.
Love the lyric change. Love this song, from the soaring intro to the bridge/anti-solo, to the way Ed's vocal's come back in raging for the final verse, with Mike soloing under it. Great version of it tonight.
Afterwards, Ed makes an announcement, and I'm not going to transcribe it yet, because, to be honest, in the moment, the meaning of this is lost on me. I always have a little trouble understanding Ed at shows. A combination of his low-key almost-mumbling delivery coupled with my ears ringing from the loudness of the music means I catch about half of what he says. Something about playing three nights, no repeats, they're playing a lot of songs on this tour, and that there's a trailer park nearby that insists on a strict curfew.
I Am Mine
The first single off Riot Act, and a good one on an album, in my humble opinion, full of great songs. I love the rhythm of the lyrics (let's hear it for a little iambic pentameter love! Eddie Vedder getting all Shakespearean on this noise!) and the way they drive the song along, as well as the little break after the second chorus. The outro solo, while simple (in terms of Mike McCready's solos) is lovely, with a nice soaring feel to it. I would love to see this song become a staple, and that solo get pushed a little longer, as happens with songs they've played a lot live.
Even Flow
Speaking of songs they've played a lot live, here's a little "Even Flow" action for us. Fourth show in a row! Who knew they'd play it again?
Here's what I mean about the solo getting pushed longer the more they play a song. On Ten, this song clocks in at a decent 4:53. The first time I saw them, in 96, that version was actually shorter than the album version, as they buzzed through the song in just 4:43. The 98 version checks in at 5:30. 2000 is an outlier, with a brief 5:01. Tonight, they play for 6:58, as Mike just keeps soloing. I'm sure people who go to a lot of shows might get tired of this, but I simply adore watching Mike McCready play guitar. I do feel a little bad for Jeff Ament, though, as he has to play that bassline over and over again while Mike does his thing. I would love to see him rock out a bass solo one of these shows. Are bass solos a thing in rock bands?
Maybe not, but I think Jeff could handle it.
Help Help
And then back to the other end of the spectrum, with a song almost never played live, which is a shame. Another Jeff Ament song. I like his songs. A little weird, but I love the soft verse, followed by the band nearly dropping out entirely for the "tell me lies/tell me why" part, and then bursting forth for the "Help me!" chorus. I also love the final verse, where Ed changes up his vocals leading into another outro solo (I feel like we've seen a bunch of those tonight). Mike goes a little nuts on this one.
Immortality
Going back to the discussion on setting up a track listing, I feel like there's an unwritten rule that the last track on your album should be a little more mellow than the rest, a little softer. Something to ease the listener to the end of the album, like a train slowing to enter the station. Though, maybe it's simpler than that. Maybe that's just where a particular song fits. I guess the question is, does the band write the song with the intent that it close out the album, or is it just the best place for it?
"Immortality" closes out Vitalogy, softening the discordance of the album with a lovely, mournful tune. I call it mellow because of the way it starts, but it definitely builds to a crescendo of snarling guitars, with Ed hollering out the final verse. It does, however, settle into a mellow little groove at the end, with Dave keeping the beat and Stone, Mike, and Jeff improving around.
The crescendo in this version is no different, with Mike's laid back solo building into a conflagration of him and Stone rocking out in an extended solo. Instead of just noodling in the outro, though, the guys get a little more aggressive, playing faster and faster, like the end of The Who's "Baba O'Riley".
In My Tree
This is probably the biggest change from a studio version of any song Pearl Jam plays. The original starts with this crazy drum beat that drives the song forward. Tonight, Eddie starts it on his guitar, playing a little rhythm reminiscent of the original, but not quite the same. When the drums come in, they're pretty standard. It's a fun way to play the song, but it makes it feel more like a cover version than their own song.
In my post about the Hartford '96 show, I mentioned that Matt Cameron was criticized for not being able to "handle" the drum line. If you listen to the original, though, it sounds like Jack Irons has four arms. It's crazy intricate and layered. I wouldn't blame any drummer for not trying to recreate that, even just out of respect.
Here's the thing though – as this song goes on, you can hear Matt playing something that sounds a lot like the original, so maybe it was less that he couldn't play the drumline, and more that they wanted to do something a little different. Maybe it was respect to Jack – it was his drumline, kind of a way for him to show off a little, and so with a different drummer being front and center playing that, it might feel like the band was implying that Jack wasn't anything special. Maybe they shifted it as a way of saying, "No one can actually replace you, Jack."
This version also has a keyboard solo from Boom Gaspar, the band's new keyboard player, so that's pretty awesome. (More on him next time.)
Light Years
A lovely song about the impact of losing someone close to you. A good version of the song. Not much to say about it. Ed adds some lyrics at the end, but I can't make them out, so I don't know if it's just an ad lib or a tag.
Evacuation
And back into the harder stuff. Music by Matt, words by Eddie. Most of the song is Ed shouting "Evacuation!" over and over, but with the chugging music, it works. One of the first songs I really got into on Binaural.
Whipping
One of the fastest, most aggressive songs from Vitalogy. I'm sure this is not one of the songs my mom was hoping to hear tonight, but the good news is that it's so fast, it's short.
Grievance
Sometimes Ed gets a little too amped up for a given song, and messes up some of the lyrics. He's raging through this one, and throws off his own rhythm on the "If they fail to obey" lines, but it's still a great song. To be fair, I think someone threw an American flag up on stage during the song, so that might have been part of it. I love Mike's lead guitar work throughout, giving the song an added intensity.
Afterwards, Ed addresses the crowd, echoing the final line of the song while holding up said flag:
As long as I am free. That's what this stands for, yeah? As long as we're free to come up on a rock n' roll stage and say whatever the fuck we want, that's what this stands for, right? Seemed like if you had an opinion that wasn't… That wasn't the same one that… I don't know. I just feel like whatever our opinion was, and it was definitely questioning, not the soldiers that were sent over, not the job that they were committed to do, but it was the foreign policy that was being set up and putting our guys in harm's way, and wanting to know that there was a real, deep reason that was unavoidable. And it seemed like by saying that, we certainly weren't cloaking ourselves in the flag, but it seems like the people that were in disagreement with that, it seemed like they were cloaking themselves in the flag, using that for their benefit. So, since we can come up here and say whatever we want, I just want… If you see me, you notice I've been spitting a lot tonight, and that's why I picked up the flag, and I'm moving it over here, just to make sure I was doing that [spitting on the flag].
I'm not exactly sure what comments Eddie is defending here, but clearly it is something to do with the President sending troops into Iraq. This was around the time that the Dixie Chicks took to the stage and criticized the President and were nearly run out of the country music industry. In the wake of 9/11, nationalism became a fixture of daily life. At sporting events, playing the National Anthem before games was less of a routine, and more of a show of strength, especially at bigger games, like the Super Bowl, which featured a field-sized flag, and flyovers, and impassioned vocals, and on and on, and any criticism of the country or its leaders was treated like treason.
On top of that, any criticism about the war on terror was framed as disrespecting soldiers who sacrifice their lives for the good of the country, which is a pretty low thing to do. I've never served, but I respect those who do. However, I also believe that it is possible to respect and honor those who serve, but also think that the reason they're serving in a certain country is because our government has its own agenda that might not be the best for our country (there's also all kinds of nuance in this whole argument that I'm not going to get into here). Painting this as "disrespecting soldiers" is just an attempt by those in power to discredit their critics in the public eye, instead of answering the question, or the fact that while service may be voluntary, where those in active duty go, and what they do is not.
If this is all getting too heavy, Ed lightens things up a bit by addressing something else that's been weighing on his mind lately.
But again, taking the opportunity to use the microphone and say anything I want, have you noticed that Celine Dion, when you watch her, she never spits? And she pounds her chest a lot, like she's got something in there that she's trying to get out. But, you know she's part of the Sony label, and I also been noticing that Sony Electronics puts out a lot of, like, little robot dogs and things like that. I was thinking that maybe she was a robot. Strictly made to make money and work as hard as they wanted her to. But if that's the case, they sure put in too much ego. There was an ego chip, they put too many in. But I don't think that's it. I don't… I don't… I don't think that's the reason why Celine Dion [doesn't] spit. I think it's because she swallows. See, so what're gonna, y'know? You can't…
This wasn't at all awkward to listen to while at a show with my mother.
So, somehow we're gonna try to go from that… See, we don't a few Americans, here and there. We'll go after the Canadians, as well, what the fuck? Alright, so somehow we're going to try to from that to I think is one of the most… The music is poignant. Mike McCready plays it with a… It's called Present Tense.
Present Tense
An intense version of this usually placid song, with Ed ramping up as the band comes in towards the end of the second verse and really getting into the final chorus. I always felt like this song could have become like "Even Flow" or "Porch" with the solo just extending on for minutes. This version felt like it was going to do that, then it resolved into the outro riff. I haven't heard the song live since this show, though they have been playing it, so maybe they do.
Porch
In a little tease of a moment, Mike noodles around on his guitar, playing something that sounds like the beginning of "Hard to Imagine" an old rarity. It's a pretty song that would fit in well after "Present Tense". In reality, Ed was just trying to get a kid from the crowd up on stage to count off the start of "Porch". Mike and Stone seem to have some fun with the solo, with Stone riffing on the rhythm as Mike solos over him. Ed comes back to do some vocalizing with the crowds before going into an extended version of the "Hey! Hey!" part that leads into the final chorus.
And, of course, if it's Porch, that must be the end of the set.
Encore Break 1
Cheers!

How ya holding up? 'Cause some of us are feeling pretty fresh. We just got massaged in the back. We're ready to go for the next half. Mr. Jeff Ament was massaging Mr. Stone Gossard… No, no, I take that back, that's not, you know… It was six, eight-foot Amazon lesbians massage us for fifteen minutes.
All I'm going to say about this is that 8-foot Amazon lesbians would probably give amazing massages. Strong hands. Moving on.
Alright, we're gonna start this one out quiet, so that anybody in the trailer park doesn't complain. They won't know what's coming up. Alright, this is a request. This is off the last record. It's called "Thumbing My Way".
Thumbing My Way
This is the song I realized that Eddie is not just a talented singer, but also a decent guitar player. I don't know why, but I always assume that the members in a band are in those roles because that's what they know how to do. Stone plays guitar because he doesn't know how to play bass, and Jeff plays bass because he doesn't know how to play rhythm guitar. Similarly, Eddie just sings. I knew that he'd played guitar on some Pearl Jam tracks, but the most well-known example was "Wishlist", which is a ridiculously simple riff that is the guitar equivalent of banging on the tambourine.
This is related to another mental stumbling block I run into all the time, which is that talented musicians make things look so easy that I assume it just comes that easy. I might be remembering the scene wrong, but in the movie, "The Doors", when they're writing "Light My Fire", Ray Manzarek steps up to his keyboard and just starts playing what would become the main melody of the song. He doesn't work at it, getting it a little at a time, fidgeting with tempo and such, it just comes out. I know this was a movie, so it might not have happened like that, but it serves my point. I feel like artists at this level can crank out a "blues riff in B" without looking up scales and chords.
You see it in other disciplines, too. Hockey players who can stickhandle around cones with their eyes closed. Snowboarders who can throw down complicated tricks on a whim. Cake decorators can create flowers and other things out of buttercream on a moment's notice.
Here's what I always forget, though – they've worked at this for years. They are masters of their craft because they've been doing it forever. Ray Manzarek had been playing piano for fifteen years at that point. Those in other disciplines have been doing their thing just as long, if not longer. What it comes down to is practice. These people eat, sleep, and live their craft. It's what they do, day in and day out. So too with Eddie. He may not play guitar on every song, but to cast him as "just a singer" is short-sighted, and probably unfair. He's a musician. Everyone in this band is a musician, and a d
amn talented one, at that. Each member writes songs for the band, and as such, it shouldn't come as a surprise when any of them knows more about other instruments than they let on.
That doesn't mean we'll ever see Mike playing the drums, though.
Elderly Woman Behind the Counter in A Small Town
Here's another request. One two three, FOUR two three…
This might be the first show I've been at where the crowd shouts "Hello" during the lyric, "I just want to scream, 'hello!'" This version is also interesting, as during the outro, when Ed is supposed to repeat the chorus a bunch of times, he just stops, giving the song a nice tension. He then instructs the crowd to sing. The band stops playing (except Jeff keeping a minimal bassline) as the crowd sings, "Hearts and thoughts they fade, fade away," a couple of times. As the band comes back in, Ed notes, "Alright, you got the job."
Smile
A bit of confusion on stage? Jeff and Stone appear to be conferring about something, then return to their normal positions on the stage. Something looks different though.
Yet another request!
Who is requesting all of these songs? What's that? Hall-of-Fame baseball writer and celebrated Pearl Jam fan Peter Gammons is watching the show from the side of the stage and requested these songs? Noted.
So, when I made the comment about Stone not playing bass, and Jeff not playing rhythm guitar? Yeah, I was completely wrong, as Jeff plays rhythm guitar on this song, with Stone playing bass. I have no idea why they decided to switch instruments for this song, but they did, and it works. Jeff even has a little solo-type thing. Just a fun song.
Stone Gossard on bass! Jeff Ament on guitar! And, usually after that song, we say, 'Thank you, good night.' [crowd boos] But tonight, I'd just like to say that it's not lyrics that drive this music, it's not even the guitar chords, it's nothing… It's not wisdom, it's not greed. It's not anything except the drums, and Matt Cameron drives us.
Pretty sure this is the inception (in my experience anyway) of the "Eddie heaps praise on Matt Cameron" portion of the show. Eddie loves Matt Cameron. I don't think it's a knock on any former Pearl Jam drummer, I just think that Eddie looks/looked up to Soundgarden so much that to have their drummer playing with Pearl Jam still blows Eddie's mind at times. And, to be fair, he also heaps praise on other bandmates, particularly Mike.
We're very fortunate to get to play with Matt, and we're very fortunate to get to play with a guy who made a deal with the devil and plays the guitar like he does, Mr. Mike McCready.
Which leads into my all-time favorite Eddie crowd-dialog moment as he busts out some impromptu poetry:
He made the deal with the devil,
We get to play with him.
He goes to hell,
Of course, we're going to heaven.
To paraphrase "Cropduster" maybe it's the other way 'round – maybe the rest of the band made the deal with the devil to get to play with Mike.
And Mr. Boom Gaspar on the keyboards! He's not there right now, but…
This is another recurring moment at Pearl Jam shows now: Eddie introduces Boom while Boom is nowhere to be found. Nice to know it's been happening since his first tour with the band. I imagine that tonight, he's backstage, getting another Amazon massage.
State of Love and Trust
I love this version of this classic, mostly for Ed's laugh at the beginning. No idea what was said/done, but everyone was clearly having fun tonight, and that comes out in a stinging version of this song.
Leaving Here
Loved this song in '96, love it even more now, with Boom getting a chance to add a little keyboard fill along with the rest of the band members.
Thanks a lot, Boston!
Encore Break 2
Thanks so much, thank you. [crowd chants "Eddie! Eddie!" as he sits on stage with a ukulele]
I was just talking to a great… One of the… A guy who's in one of the great bands on the planet, his name's Ian MacKaye, he's from a band called Fugazi, and him and his guys they've run a label called Dischord for years, and we were talking today that the reason that you started to get into music was just to be part of a community, and no matter how big that community is, that you're part of the community in order to communicate. After having that conversation today, and seeing how many of you are out there, and knowing that we're playing here for three nights, I just wanna thank you for the opportunity to communicate with so many of you. And I know that if these tapes, you know, the bootlegs, people will hear 'em, and people who weren't here with hear 'em, and it might sound kind of overly emotional and everything, but if they were here they'd understand, and really, thank you so much.

And, I'd love for you to give a great hand, I know there was quite a few people here, a few people in particular, who completely enjoyed it. Let's give a huge hand, from London, England, The Buzzcocks!

And lastly, I'd introduce you to a friend of mine. [he holds up the ukulele] His name is… Luke. Luke the 'ook. I don't if it's a boy or a girl, but its name is Luke. [stops strumming, examines bottom of the ukulele] It's a girl!

Okay, so, I know probably a lot of you are going to school, and I know that all of you are all getting good grades. The future leaders of America. But I know they teach you this, that, and the other thing. This is about the other thing.
Soon Forget
An odd little song to get so late into the set, but it's cool to see Eddie up there alone with the ukulele. It's a pretty song from Binaural, musically representing the beginning of Eddie's love affair with the ukulele. Supposedly, he'd been struggling with writer's block during the recording sessions, and at one point refused to pick up another guitar until he wrote some lyrics. After a few days of nothing, he spied the ukulele and said, "That's not technically a guitar…" I don't know how true that story is, but the song is all about putting material gain over humanity. On the album, it was a nice break from the heaviness of songs like "Grievance" and "Evacuation" and worked as a bridge into the plaintive "Parting Ways". Tonight, it leads into another song about putting material gain over humanity.
Bu$hleaguer
Depending on who you ask, this is either the worst song on Riot Act or just another experimental track. Granted, the spoken-word lyrics of the verses are a little weird, but there's something I just love about this song. The rhythms laid down by Stone, Jeff, and Matt are so dark, that even in the extended intro tonight, you know this song is angry, moody, and dark (while Ed dances around in a Bush mask before taking it off, kissing it, and tossing it into the crowd). Then, Mike just runs ragged over the entire thing, his lead guitar snarling throughout the song. To top it all off, Ed's lyrics, from the spoken word verses to the chanting "Blackout weaves its way through the city" pre-chorus, to the melodic chorus are just amazing. Really, some of the most poetic lyrics they've written (writing credits to Stone and Eddie), and delivered so well that the spoken word parts feel lyrical and melodic.
I'm really not sure why it gets such a tepid response. Because it's different than the rest of Pearl Jam's music? Sure, but at the time of this show, No Code had been out for seven years, and we've had three more albums of left turns. If you weren't on board with Pearl Jam's wild variations in style, what the hell are you doing at a concert? Is it the political nature of the song? That could be, as it is a scathing reproach of not just George W. Bush, but really the whole family and the upper class that benefits from his economic policy. That might be it, but I think the real issue is that they were going for a dark, sinister-sounding song, and they nailed it, which, ironically, might be the biggest problem. It's almost bleak, it's so dark, and that makes it a little tough to listen to.
Still, though, it has lines like this, which might be my favorite Pearl Jam lyric of all time, which you might recognize from The Pedone Factor home page:
This is such a happening tailpipe of a party. Like sugar, the guests as so refined.
Fuckin' Up
Back in 1994 or 95, before I'd seen Pearl Jam for the first time, I was discussing how much I wanted to see them with a schoolmate. He informed me that his brother had seen them and hated it, because he thought it was clear they wanted to be The Who, given how many covers they did. Almost a decade later, I would say that this guy's brother was wrong. Though Eddie may love The Who, I think he actually wants to be Neil Young.
I'm okay with that, as the entire band loves "Uncle Neil" and they throw themselves into his songs with the same abandon as their own (which isn't always true with covers). This is the second time in as many shows that I've heard this song. Last time, it followed "Yellow Ledbetter" (one of the rare songs to do that); maybe tonight, we'll get the reverse!
As the song ends:
Thank you! Good night! Goodbye! See you tomorrow…
On behalf of everybody that played tonight, thank you so much! Peace!
And sure enough, that's the show. Okay, this is a common closer song, but this felt abrupt. Maybe it's just because I wanted to hear a little "Yellow Ledbetter" (and, more to the point, I wanted my mom to get to experience it), or maybe it's just that I always want more. Sorry, Pearl Jam, you guys are just too darn good!
---
All in all, this was a great show. A bunch of songs from Riot Act and Binaural, as well as classics like "Even Flow" and "Porch". I'm a little bummed to get no "Alive" or "Yellow Ledbetter", but that's okay. It's nice to have new songs in the set list. The band and the crowd had some great energy, and our seats were pretty much the best I've ever had to a Pearl Jam show, or will ever have. They weren't front row or anything, but they were pretty good. I think my mom enjoyed the show. I'm sure it wasn't her dream set list, but it was still pretty good.
I was feeling pretty good about my decision to sell off my tickets to night three and just come to this show, until later, when I found out what Eddie was rambling about after "Dissident":
Hey, I'm gonna… We're gonna let you know what we're attempting to do tonight. There's kind of a plan, a method. Since we're playing three shows in your neighborhood and we've worked up about 70 songs for this tour, we thought we'd play three nights without repeating a song. And get to every song. However, we thought we were playing about 70 songs. We're actually playing about 105. The main set is usually about 17. This would put it at about 35 songs a night. And I don't want to offend any of your friends and family that live in the trailer park over there, but apparently, because of them, there's a strict curfew, so we're gonna get through what we can… (crowd boos) They can hear you booing. It's best to make friends with 'em… I think it's the way to do it. Invite them to park their trailers out there for the last show, or something. So that's the idea, with your support, and I'm not going to waste any more time. Let's get right back to the job at hand here.
Daaaang.
105 songs over three nights with no repeats. That makes some of the decisions for tonight make some sense. No "Alive", no "Jeremy", no "Yellow Ledbetter" – they were saving them for later nights. It also means that these three shows are more like one long show spread over three nights (and a week, but ignore that).
Pearl Jam's setlists tend to vary from night to night, we know this. It's why so many people are willing to see them multiple times on the same tour. Unlike many other bands who play the same batch of songs over and over again, Pearl Jam likes the variety. However, this announcement means that each of these three nights will be completely different. How amazing would it be to see all three shows?
Of course, there were some problems with that. The first being that the second and third nights are sold out. I had bought tickets to night three, but I, like the fool I am, sold them when I realized I had tickets to night one. I suppose I could have bought tickets from the secondary market, but that posed its own set of problems, chief among them the cost. Not far behind that, though, is simply access. This was 2003. While we had the internet, there's no StubHub, and very little electronic ticketing. I'm not sure if print-at-home was an option yet. That meant meeting up with someone in person. Not terrible, but tough to do on such short notice. Also, I don't ever recall seeing scalpers outside of Great Woods. It's a pretty isolated venue, not like an arena show in a city, where scalpers can hang out a couple of blocks away and prey on the foot traffic. Most concert-goers here drive in to the parking lots, where I can't imagine scalpers are welcome.
Even if there were scalpers outside, I was not about to drive two hours to Mansfield, Mass on the off-chance of getting tickets. My car wasn't in great shape, and gas wasn't cheap, even back then. If I'd found a scalper, and could afford his price, great, I'd be in the venue. If not, what then? Turn around and drive home? Hang around outside and listen?
Another problem was that Night One was a Wednesday night. I took time off to be at the show (though mostly for the hanging out beforehand - I could probably have worked and made it down in time). I have to work Thursday, and then again on Friday. I didn't have time to hunt down tickets, buy them, drive to Mansfield, and drive home. I'd be exhausted by Friday. I needed that job. Well, sort of. It wasn't paying me anything, but it was good experience that would lead me to a job in the field of graphic design. Well, actually, no, it wouldn't, but I didn't know that at the time. Things were looking grim for me seeing the rest of the experiment, but you know what they say about wills and ways and candy and nuts, right? The same thing they say about everything else.
Wait, that doesn't make sense.
Next time: I miss out on Night Two, but damn it, I'm not missing out on Night Three!
Posted: 03.21.18
---